January 2017
Join the DC Cabaret Network!
Join now for 2017!
Please send your dues to
DC Cabaret Network
P.O. Box 6259
Washington, DC 20015
or through PayPal at: www.dccabaretnetwork.org/membership.html
Membership Dues:
$45 through 12/31/2017
DCCN Open Mic Will Resume in February
Due to the holidays and availability at the Black Squirrel, there will be no January Open Mic. Please come to 4 at 4 (see below) on January 29!
DCCN Merchandise Now Available via CafePress
Show off your DC Cabaret Network swag with DCCN t-shirts, tote bags, water bottles, mouse pads, hoodies, and more.
Check out the selection of merchandise available from our CafePress shop, and let us know if there are other products you'd like to see!
Link to store: http://www.cafepress.com/DCCN
New DC Cabaret Network Series: 4 at 4 at The Black Squirrel on January 29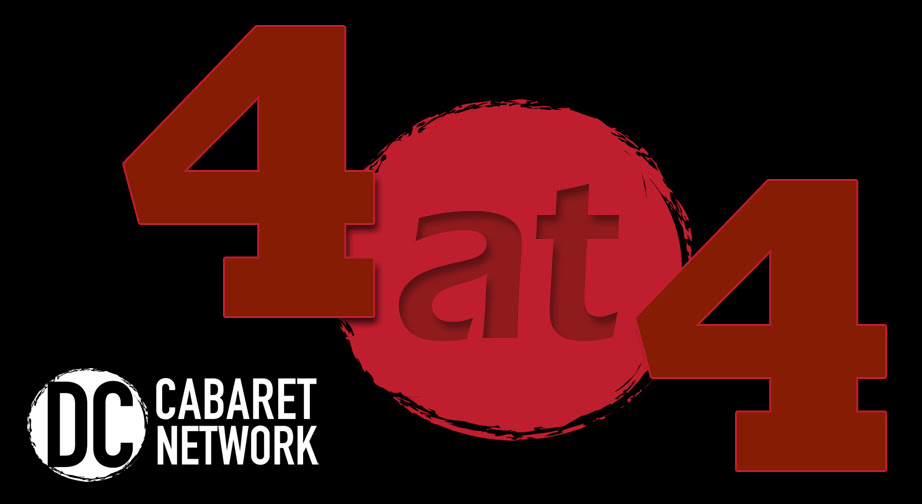 The Cabaret Network is continuing its new series: 4 at 4. This event is intended to showcase members' talents in an extended format. Four DCCN singers (Annie Elliott, Marianne Glass Miller, Ron Squeri, and Tim Gavagan) will each perform a 20-30 minute set, directed by Steve Cupo and with music direction by Jeff Hamlin. Tickets are $20 ($15 for members), available at the door.
When: Sunday, January 29, 2017 4:00pm
Upstairs in the Squirrels Nest!
The Black Squirrel
2427 18th Street NW
Washington, D.C. 20009
Germano's Open Mic - December 21
Open Mic at Germano's is eager to welcome you on January 18. These monthly gatherings are hosted by Mary Reilly and bring together singers and song lovers from the Baltimore/Washington area.
The theme this month is "Singer's Choice," with special guest Lonny Smith.
As always, reservations are appreciated so that Cyd and Germano can provide the appropriate level of staffing. You may begin the evening as early as 6:00 if you're coming for dinner. Sign-up is at 7:00 and the music begins at 7:30.
Germano's hopes you will attend this month's open mic. If you haven't joined before, you're missing a really great evening of entertainment. Why not bring a couple of friends along with you? Singers and non-singers alike are always welcome.
Hope to see you on the 18th!
Classes, Workshops, and Instruction
COACHING WITH GEORGE FULGINITI-SHAKAR

George Fulginiti-Shakar offers private vocal coaching sessions and is also teaching a performance class at Studio Theatre Acting Conservatory. George has worked with many singers helping them to develop vocal technique, audition material, cabaret acts, piano arrangements and transpositions of songs in the "right" key. Daytime and evening times are available.

Email to GeoFulShak@aol.com or call 202-332-7570.

VOCAL & PERFORMANCE TECHNIQUE WITH CINDY HUTCHINS

Cindy Hutchins is currently offering private lessons in vocal & performance technique for teens and adults.

Learn the basics of healthy singing; increase your knowledge of music theory/sightsinging, and discover new song repertoire for auditions, cabaret shows, or just for fun. Cindy is an experienced performer, teacher, and producer.

Afternoon and evening times are available. Dupont Circle location accessible to metro. Email: cindy711@verizon.net or call 301-717-4665 for more information.
VOICE INSTRUCTION & VOCAL COACHING/ACCOMPANYING WITH JAMES K. McCULLY
James K. McCully offers Professional Level Training for Opera, Musical Theater & Cabaret.
James is a former National Endowment for the Arts' Opera Musical Theater Fellow & On-Site Evaluator of Professional Opera and Musical Theater Companies and their Emerging Artists Training Programs across the nation.
He has taught on the voice faculties of Catholic University of America & National Conservatory. His students perform with AGMA Opera Houses/AEA Theatres, National/International Tours, PBS, The White House for Presidents & Her Majesty, The Queen, National Cathedral, and the Armed Forces.
Washington DC Eastern Market Metro Vocal Studios: www.VoiceLessonsDC.info
Northern Virginia Vocal Studios: www.VoiceLessonsNoVA.info
THE VOCAL STUDIOS OF JAMES K. McCULLY www.JamesKMcCully.org
Email: Maestro@JamesKMcCully.org Voice (202)683-7874 or (703)354-8623